Hawaiian Print is the "Official Hot Guy Shirt" of the Summer: Here's Where to Find an Ethical One
My husband, man of custom-tailored suits and pocket squares, recently informed me that he was thinking about adding a Hawaiian shirt to his weekend repertoire (inspired in no small part, I'm sure, by the street styles of Pitti Uomo). I'm all for it! I like a good suit, but I much prefer "Weekend Jon" in jeans, button-up shirt, and loafers.
Conveniently, Man Repeller just declared Hawaiian print the "Official Hot Guy Shirt of 2018." So if you're a hot guy or dating one, you should probably seek out one of these responsibly-made Hawaiian shirt options immediately.
Marine Layer + Lost and Found Mauna Loa Popover
If you're an ethical fashion buff you've likely heard of Outknown, the sustainable mensware line founded by World Surf League champ Kelly Slater and designer John Moore. This BBQ shirt, made from 93% Organic Cotton and 7% Hemp, uses waaaay less water than its conventional counterparts. Its vintage print, modern cut, and corozo nut buttons make for major style – perfect for getting your grill on.
Aloha Beach Club Keola SHirt
Cut and sewn in Honolulu, this 100% cotton shirt is about as Hawaiian as it gets. Aloha Beach Club is another of my favorites for casual mensware, with a rad in-house line that's made in the USA. If you ever find yourself in the North Park neighborhood of San Diego, be sure to check out their store – replete with the beachiest of vibes.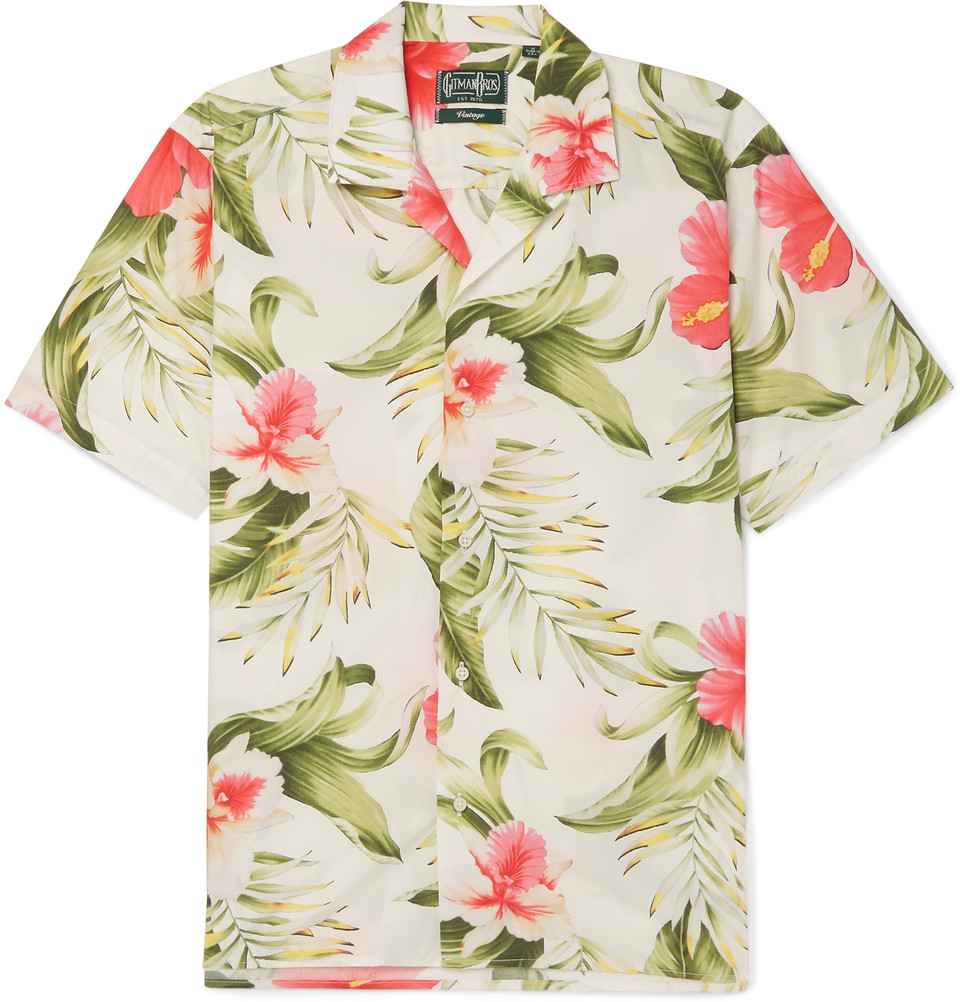 Gitman Vintage Camp-Collar Poplin Shirt
Proudly American-made, Gitman Vintage is one of the few remaining shirt-makers that keeps every step of production in the USA. Its prints are all based on original designs from the company's archives, and this poplin number with a retro-style collar is no exception. And it's100% cotton, so no need to worry about those pesky microfibers hanging around.
Patagonia Malihini Pataloha Shirt
This 100% organic cotton shirt nails on on transparency. In line with Patagonia's commitment to sustainability and fair labor practices, each step of this shirt's production is traceable on the product description and the company's Footprint Chronicles. Happy people, happy planet: now that's the aloha spirit.
Lightning Bolt V-Land Shirt
I included this one even though it's a little obscure and probably hard to shop for. Lightning Bolt is a heritage brand that was founded in Hawaii in 1971 by and band of local surfers. It lost momentum on the islands but took off in Europe, and recently stared operations back up in the U.S. From what I can tell, their shirts are made primarily in Los Angeles and Portugal (but it's a little hard to tell from the website; I got that info from a 2013 interview). It's worth a look, especially if you hail from Europe!
This post contains affiliate links. Thanks for supporting Birds of a Thread!